| | |
| --- | --- |
| | |
| | |
This memorial website was created in the memory of our beloved son, Brett Ginder who was born in Indiana on November 15, 1986 and was killed in a car accident on July 09, 2005 at the age of 18. We will love and miss him forever.





Brett was the 4th of five children of Bob & Cheryl Ginder. From the moment of his birth he brought happiness and love to his parents and siblings. He was always very loving and good natured. As a child and a teen he was quiet until he got to know people, then he was ever teasing, joking, and laughing. He was kind not afraid to stand up for someone who was being mistreated. He was intelligent, but sometimes needed to exercise self discipline to achieve goals. When we lost Brett we lost not only a son and a brother ... we lost a 'friend'. If he could he would be holding our hands right now and encouraging us to hold on. Knowing the zest that he had for life and his love & concern for his family helps us to get through each day because we know that's what he would want for us. I hope to live each day as he would as my tribute to him.




Brett's favorite place to eat was Joe's Pizza and China Buffet in Olney, his favorite drink was IBC root beer, his favorite dance was Chill Factor & Elvis Rock, his favorite past time was playing Magic with friends, he loved going to theme parks, his nick name for himself was 'Trent' (said he liked that name better than Brett), his mode of dress was tee shirts and baggy pants, and his usual facial expression was a big smile and a twinkle in his eyes. He was never happier than when he was surrounded by his brothers and sister or friends.







I said, God I hurt
And God said, I know

I said, I cry alot
And God said, That's why I gave you tears

I said, Life is so hard
And God said, That's why I gave you loved ones

I said, But my loved one died!!
And God said, So did mine!!

I said, It's such a great loss!!
And God said, I saw mine nailed to a cross!!

I said, But your loved one lives!!
And God said, So does yours!!

I said, Where is he now??
And God said, My Son is by my side and
Your Son is in my arms!!



A Child that loses a parent is an orphan,
A Man who loses his wife is a widower,
A Woman who loses her husband is a widow,
There is no name for a parent that loses a child,
For there is no word to describe the pain.


Brett left us unexpectedly in a tragic automobile accident. He had just graduated from high school and was in the process of qualifying for the radiology program. He wanted a job that would make it possible to earn a living and stay near his family. To those who knew him he was known for loving his family and friends most in life. He was always smiling and always making us smile. He loved collecting medieval weapons, watching his beloved anime, and visiting Civil War battlefields. He designed and made many rings his senior year in high school. He also loved listening to many types of music. Brett danced with his family off and on since he was eight years old and was known by many dancers to be a talented dancer. There are no words to express how much he is missed and no words to describe the huge void left by his death. Gone are his smiles, his antics, and his hugs. To his parents he was 'Betz', to his brothers he was "Beedy', to his sister he was 'best friend' as much as 'brother', and to all others who knew him he was 'friend'.


Dancing With The Angels
Memories surround me
But sadness has found me
I'd do anything for more time.
Never before has someone meant more
And I can't get you out of my mind
There is so much that I don't understand...

But I know &
You're dancing with the angels
Walking in new life
You're dancing with the angels
Heaven fills your eyes
Now that you're dancing with the angels.

You had love for your family
Love for all people
Love for the Father and Son
Your heart will be heard
In your unspoken words
Through generations to come.

There is so much that I don't understand
But I know &

You're dancing with the angels
Walking in new life.
Heaven fills your eyes
Now that you're dancing with the angels.

We're only here for such a short time,
So I'm gonna stand up..
Shout out &
And sing "Hallelujah"
One day I'll see you again !!!!!





On the day that God took you
I thought that I would die.
I wondered where the time went?
I asked a lot of 'whys' ??

With people all around me
I felt alone inside
From all their words of comfort,
I couldn't seem to hide.

I thought I might be dreaming,
That I'd wake and find you here,
I thought "This can't be happening,"
As I wiped another tear.

On the day that you were laid to rest
My heart broke yet again,
I wondered if the pain would end.
But mostly, I wondered 'when' ??

It's hard to be without you,
At times the days seem long.
Sometimes I just sit crying
When there's really nothing wrong.

I wish we'd had more time
Before your life was done.
I hope you're resting peacefully
My precious son.

Author Unknown




Sunny days seem to hurt the most
I wear the pain like a heavy coat
I feel you everywhere I go
I see your smile, I see your face
I hear you laughin' in the rain
Still can't believe you're gone

It ain't fair you died too young
Like a story that had just begun
But death tore the pages all away
God knows how I miss you
All the hell that I been through
Just knowin' no one could take your place
Sometimes I wonder
Who you'd be today.
Would you see the world, would you chase your dreams
Settle down with a family
I wonder what would you name your babies
Somedays the sky's so blue
I feel like I can talk to you
And I know it might sound crazy.

It ain't fair you died too young
Like a story that had just begun
But death tore the pages all away
God knows how I miss you
All the hell that I been through
Just knowin' no one could take your place
Sometimes I wonder
Who you'd be today.

Today, today, today
Today, today, today.

Sunny days seem to hurt the most
I wear the pain like a heavy coat
The only thing that gives me hope
Is I know I'll see you again some day
Someday, someday...





Brett's ring that he made in high school. He wore it on his right thumb & called it his 'lucky ring'. He did not have it on the day of the accident. I now wear it on my right thumb...always keeping you close Betz!!!



Morning Will Come

Brokenhearted ...
How can I bear the pain ?
So many plans ... shattered.
Hopes dashed, All gone ...
Why ?
Why this ?
Why us? Why him?

Helplessness ... hopelessness ...
Life will never be the same again.
Is it even worth living?
Where are you God ???

"I'm right here beside you my child,
Even though you may not feel my presence,
I'm holding you close under the shadow of my wings.
I will walk with you through this dark night."

"Do not shrink from weeping,
I gave you tears for emotional release.
Don't try to hide from your grief.
Let it become for you a source of healing,
A process of restoration,
For I have planned it so.
Those who mourn shall be blessed.
I'm holding onto you
Even when you can't hold onto me."

"Seek my face, child of mine,
Receive my promise, impossible so it may seem now,
That joy will come in the morning.
It may take much time
But I will heal your broken heart.
I know the night might seem endless,
But Morning Will Come ...
I Have Promised !!! "
Author Unknown




This is a window cling designed by Kelsey, Brett's sister.


Brett's silly Disney wizard hat that he bought on our last vacation with him. This has become a symbol to us of his playful nature. It was in his car the day of the accident. Brett... I will always remember seeing your smiling face when you wore this hat. I'm not sure I can ever go to Disney again...the memories of him there are too strong and causes me to miss him even more than I already do.




The Broken Chain

We little knew that evening
That God was going to call your name.
In life we loved you dearly,
In death we do the same.

It broke our hearts to lose you,
You did not go alone,
For part of us went with you
The day that God
Called you home.

You left us peaceful memories,
Your love is still our guide.
And though we cannot see you
You are always at our side.

Our family chain is broken,
And nothing seems the same,
But as God calls us one by one,
The chain will link again !!!



This collage was made for me by another grieving mother who shared her talents to comfort me. This combines Brett's love of things Medieval, his metal works from senior art (the dragonfly, the copper disk, and the metal circle) , his hand with the ring he made (which I now wear) and a white feather (which has come to symbolize my struggle with 'faith') which Brett is extending to me. A beautiful 'gift' from one mother to another...thank you Cherri!!!. Brett would be humbled by this, as am I.




Here's a poem I found that I'd like to dedicate to the other parents who have lost children and have helped Bob & I on this journey that we did not want to take:

Mothers of the Mourning After

When we met we could barely speak,
Paralyzed and frozen we sat.
We leaned on one another and were able to stand,
And slowly we learned to walk.

As time passed a bond formed from the love
Of our children lost ...
A friendship forged in pain
Grew into love and laughter.

Together we have found new ways
To live and love and remember the life.
Longing for a time that exists in heart's memory
Together we talk of our children
And smile with silent tears.

Dear friend, 'thank you' for walking the valley with me,
Thank you for sharing the love.
As we climb together we can more clearly see...
See them in the distance
smiling, waiting, and proud.



Brett on the monorail at Disney. Our last vacation with him. We miss you Betz!!!!



Make Heaven Wait

I see you smiling everyday
Looking Back at me
Like nothing ever changed.
I swear I heard you calling my name
But in reality it's just your picture in a frame.
Why am I here without you
When there was so much left for you to do?
How could tha angels come so soon?

If I could make Heaven wait
I'd find a way to ask God
If He had made some mistake
If he'd save the wings for another day
If only I could make Heaven wait.

All your clothes are hanging up
Not a thing has been touched
I left it all the same.
I wish that I could press 'rewind'
And Go back in time
Just to see your face again
Cause I miss you ...
I need you ...
I'm so alone without you here with us.
You were the reason I breathe.

And every night I search for your star in the sky
Cause I would trade in my life
For a chance to say 'Goodbye' ...
make Heaven wait
make Heaven wait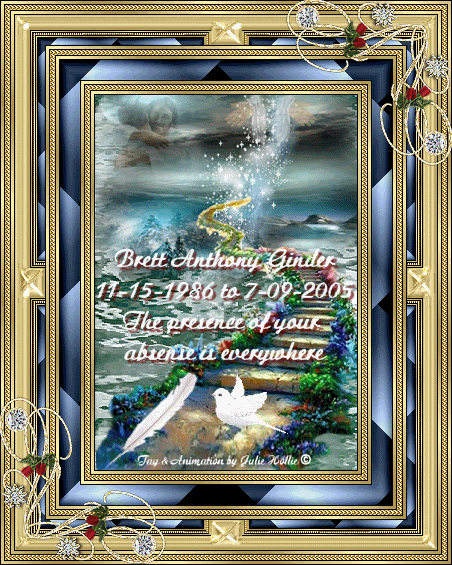 He will cover you with His feathers, and under His wings you will find refuge. Psalm 91:4







Brett liked to dance at Kickers in Clarksville, Tenneessee. He liked the DJ there because Tim played the music to the dances that Brett liked to do. Brett and Cindy, the instructor there liked to dance Elvis Rock and Chill Factor together. Recently on a visit to Kickers they did a memorial dance to Vince Gill's 'High On The Mountain' in Brett's memory...he would have been pleased to know that they miss him there. Now he is Dancing With the Angels.






Brett always knew that I (Mom) loved gazebos and he always pointed them out to me wherever he saw one. In May of 2005, 2 months before his accident, he told me that 'someday' he was going to buy me a gazebo. I reminded him that they are expensive, but he was adamate that he would save the money and buy me one. He said "I know you don't believe me, but I promise you that someday I am going to buy you a gazebo." ... now that promise has been fulfilled. Today, July 7, 2006, I took delivery of a 10 foot gazebo that I ordered and paid for using money from his savings. That money was supposed to be for his college and he was not here to see the gazebo, so this was a bittersweet day. This gazebo will always be special to me. It brings both smiles and tears as I think of that day in May when he made that promise. That was the last full day that we spent together. I hope that he somehow knows that his promise is sitting in our front yard and I hope he knows how much I love him always and how much I miss him. As I write this the first anniversary of his death is in a day and a half. I cannot believe we have lived through a year without his smiles, his contagious laugh, his silliness, and his love. It is difficult to imagine living on another year without him.

Betz... our house is so empty without you and our hearts are broken. I am praying that when my time here is over that you will be there waiting for me. I love you intensely Brett !!!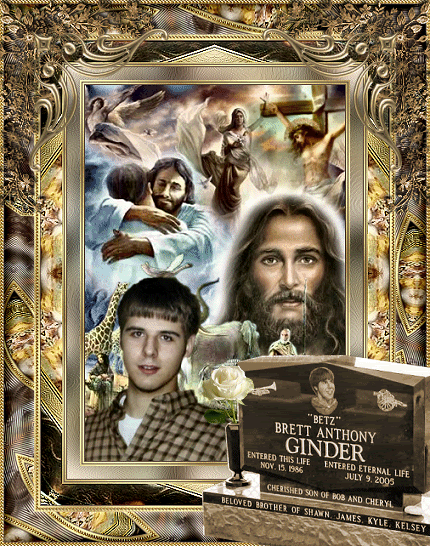 The lady that made this awesome animation for me can be found at: http://public.fotki.com/juliehollie/
Thank you Julie..you're wonderful!!!



These are Memory Bears made from some of Brett's favorite clothes. he wore these tee shirts & jeans so much they were quite ragged looking, but have the most memories attached to them. The feet of the bears are made from Brett's pillow case that has not been washed since he slept in his bed last. Each of Brett's brothers, his sister, grandparents, and we have a bear to hug. A wonderful lady that I now consider a friend (who also lost a son) made the bears for me. To learn more about Janet & the bears she makes go to:

http://www.geocities.com/joesmemorybears/






Brett's Place